As an independent hotelier, maximizing your daily hotel booking is a must. Many small hotel owners have looked over the great benefits of OTAs Online Travel agency. Some might not want to waste the commission fee or some might be afraid of online fraud.
However, without OTAs it may be more difficult for potential guests to find and book your property. Additionally, you may have to rely more heavily on other marketing channels such as social media, your own website, and word of mouth to promote your hotel.
So in this article, we will highlight the top Online Travel Agencies that not only offer competitive prices, but also provide exceptional customer service and a seamless booking experience. Whether you're looking for a budget-friendly option or a luxurious getaway, our guide has got you covered. In this article, we will take a closer look at the best OTAs for boosting your hotel bookings
What are OTAs Online Travel Agency?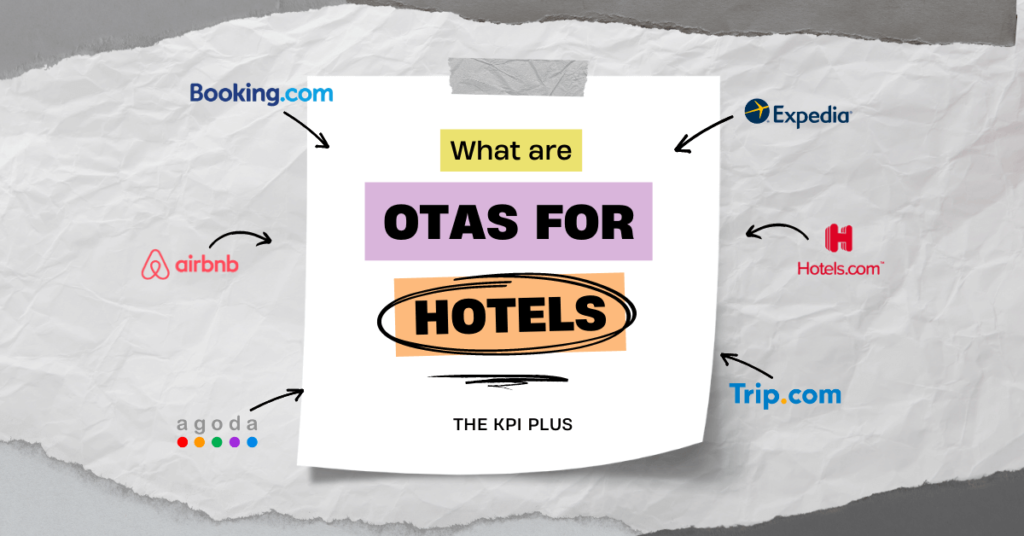 OTAs for hotels, also known as Online Travel Agencies is a third-party platform or website that allow customers to book travel-related services such as flights, hotels, car rentals, and vacation packages.
Online Travel Agency  act as an offline travel agency which sells every different kind of hotel in one place, however with different potential functions that customers can make reservations right away. There are few famous OTAs Online Travel Agencies such as Booking.com , Expedia and Agoda.
Why do we need Online Travel Agency
OTAs have become increasingly popular in recent years as a way for hotels to reach a wider audience and increase their bookings. There are several advantages to using an Online Travel Agency for hotels, including increased visibility, convenience, booking flexibility, and increased bookings.
One of the biggest advantages of using OTAs is increased visibility. Online Travel Agency have a large customer base and can help hotels reach a wider audience. This is especially important for smaller hotels or those in less well-known locations, as they may not have the same marketing budget as larger, more established hotels. By listing rooms on an OTAs, these smaller hotels can increase their chances of being seen by potential customers.
However, large hotel chains like Marriott have been building new Sub brands, which means that they have depended less on OTAs, so travelers can easily find and book their stay on their website. Somehow small independent hotels rely entirely on Online Travel Agency to boost their bookings since they don't have a booking engine of their own.
Many OTAs also allow customers to book rooms with flexible cancellation policies, which can increase the likelihood of a booking, especially during uncertain times. By listing rooms on multiple OTAs, hotels can increase their chances of filling rooms and generating revenue, especially during slower periods. Lastly, the commission-based model of OTAs can be more cost-effective for hotels than other forms of advertising, as hotels only pay a commission to the OTA when a booking is made.
Best Online Travel Agency to boost hotel booking
Booking.com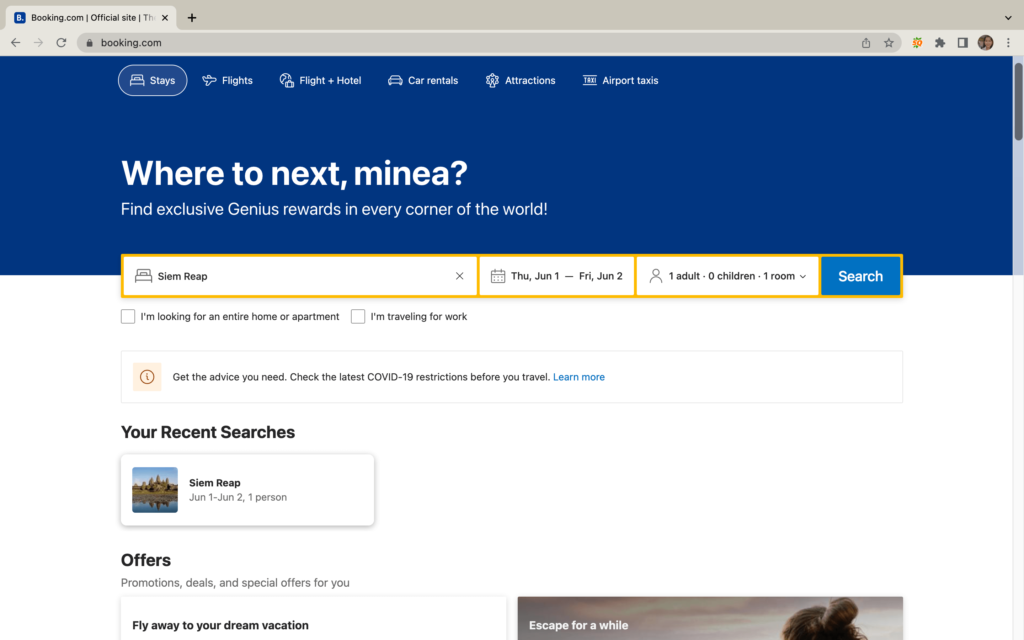 Booking.com is one largest and popular online travel agency known worldwide. Every day there are almost a million rooms booked on Booking.com. Booking.com is known for its best-price guarantee and its easy cancellation policy which makes it one of the most preferred OTAs among the customers. 
Specially, Booking.com doesn't charge any fee to be listed on the platform, You will only be charged when the Booking is successful. The commission rate for Booking.com can vary depending on the property, location, and type of accommodation. However, it is typically around 15-20% of the booking value.
It's important to note that some properties may also have additional fees such as a fixed fee per booking or a commission based on the length of stay.
Expedia.com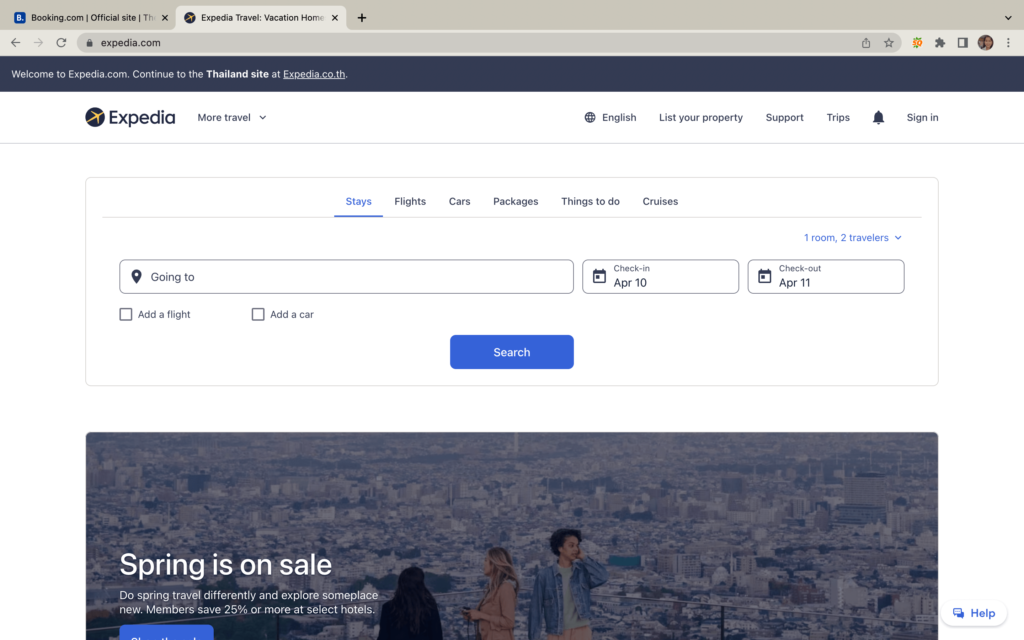 Expedia.com is one of the popular Online Travel Agencies just like Booking.com. However, Expedia.com is known for its website and mobile friendly, which allow customers to easily search and book arrangements.
Somehow Expedia.com is particularly well-known in the United state which has a strong presence in the American travel market.
The commission rate for Expedia can vary depending on the property, location, and type of accommodation. However, it is typically around 15-20% of the booking value. Similar to Booking.com, this rate can also vary depending on the type of contract and rate plan that a property has with Expedia.
Hotels.com
Hotels.com is owned by Expedia which is also another well-known OTAs. However Hotels.com is more likely to value loyalty customers which provide a reward program.The rewards program allows customers to redeem their points for free nights at participating hotels, and it also offers exclusive deals and discounts to members. 
Good thing about listing on Hotels.com, they can automatically rank on both Hotels.com and Expedia.co which it's really great visibility to our potential customers. 
Not so different from other Online Travel Agency, They all have quite familiar commission fees. However, It's recommended to check with Hotels.com or contact the property directly for more information on the commission rate.
Airbnb
Airbnb is one of the youngest Online travel Agency which is popular for short-term rentals and vacation rentals. Airbnb seems to provide the customer the Unique and Local experience which allows the customer to explore a whole new experience and culture in a new place. For those who have accommodations which provide a local or cultural experience, Airbnb is the best match for your place.
The commission fee for Airbnb varies depending on the type of booking and the host's location. For most bookings, Airbnb charges hosts a fee of 3% to cover the cost of processing payments. In addition, hosts may also be charged a fee of between 6% to 12% for additional services, such as cleaning and guest communication. These fees can vary depending on the host's location and the type of booking.
Agoda
Agoda is owned by Booking.com. Agoda is an Online Travel Agency particularly well-known among Asian countries. Agoda frequently offers a great deal for booking accommodation. It's also provide 24/7 service.
Agoda charges commission fees just like its mother brand Booking.com. It is typically around 15-20% of the booking value. The commission rate for Booking.com can vary depending on the property, location, and type of accommodation.
Bottom Line
OTAs is a platform or website which acts as a third-party which customers can easily search and book  for accommodation to stay. The Best OTAs for hotels are Booking.com, Expedia, Hotels.com, Airbnb and Agoda.
Even Though they provide a quite similar commission fee policy somehow they reach slightly different types of potential audiences. As hoteliers, we can choose what works best for our hotel or we can increase our online visibility by presenting in all the OTAs.